"This is the happiest I have felt in a long time," said Insha Mushtaq, a 16-year- old Kashmiri girl who was hit by pellets, causing her to lose vision in both eyes. Mushtaq has cleared her 10th standard board examinations and now hopes to study further.
Mushtaq always wanted to study medicine but when she was blinded by pellets fired by the Indian army at protesters in Indian-occupied Kashmir in 2016. She gave up that ambition and chose music instead.
On the evening of 11 July 2016, Mushtaq had heard loud noises and opened one of the windows in her house in a village in Shopian district to look outside. She was immediately hit by pellets, causing her to lose her vision in both eyes.
She spent the next three months in and out of hospitals hoping to regain her sight but nothing worked.
---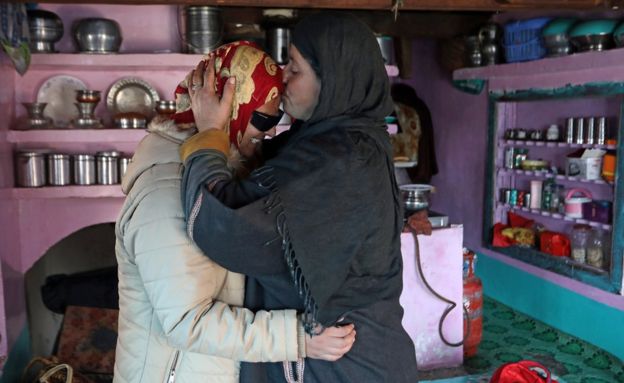 Insha's mother congratulates her after passing the exam. Photo: Abid Bhat

---
"This is no less than a miracle," her father, Mushtaq Ahmad Lone, adds.
"She has made all of us so proud. It s a great achievement considering the trauma she had to go through."
An ambitious student, when she spoke to the BBC in 2016, she had flipped through her text books in despair, tearfully adding, "I can only feel them now."
She appeared for the exam in November 2017. An "examination helper," another student from a lower class, was selected by authorities to read the questions aloud and write the answers that Mushtaq dictated.
Her success has made her the talk of her village but for a positive reason this time. Family, friends, neighbours and reporters have been flocking to her home to congratulate her since the results were announced on Tuesday evening.
Mushtaq s injuries made her the face of a tragedy that sparked international outrage and led to criticism over what many called India s "disproportionate reaction" to civilian protests.
Security forces used "pellet guns", a kind of shotgun, against the protesters. The Indian army had said that the pellets, made of rubber-encased steel, were not lethal.
---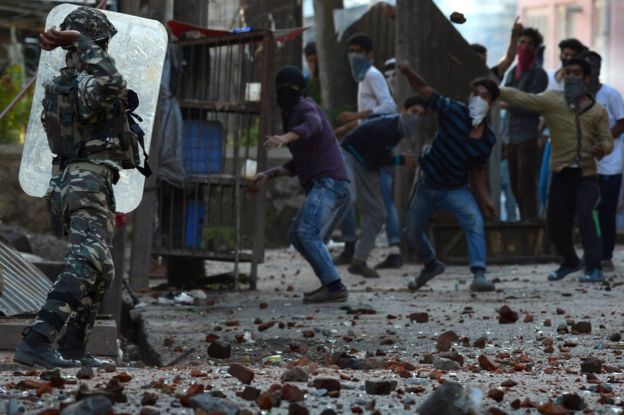 Security forces used "pellet guns" against protesters. Photo: Getty Images
---
But the pellets killed dozens of people and injured more than 1,500 others – bystanders, including children, were often caught in the crossfire. Many suffered severe eye injuries.
Mushtaq was among the hundreds who were injured in the clashes against Indian rule.
Kashmir has been a flashpoint between India and Pakistan for more than 60 years, sparking two wars between the nuclear-armed neighbours. Both countries claim the region in its entirety but only control portions of it.
Mushtaq s injuries made headlines because she lost vision in both her eyes. After several rounds of unsuccessful surgeries to improve her sight, she says she chose to focus on her future.
When she had to choose between music and mathematics, she says she picked the former because as much as she liked math, she believed it would have been "harder" for her because of her blindness.
She started studying while recuperating at home. "I faced a lot of difficulties," she told BBC.
"My teacher had to repeat everything at least four times for me to remember something. And still I would forget."
---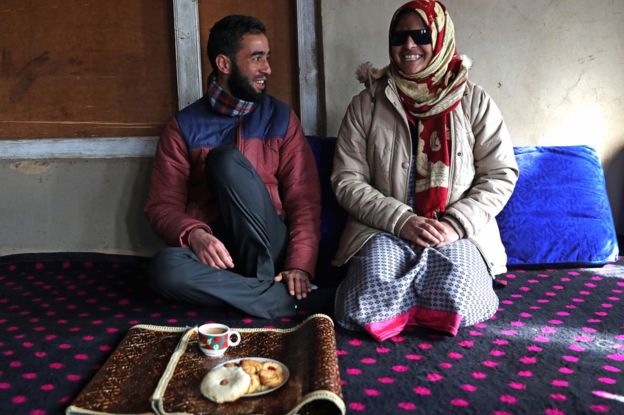 Muzaffar Bhat tutored Insha for her exams. Photo: Abid Bhat

---
"Sometimes she would get irritated and say she doesn t want to study," her tutor, Muzaffar Bhat, told the BBC.
"Then I would stop and talk to her about something else to relax her. I had to be more patient with her but she did well. She did really well. She passed the exams with sheer willpower and hard work."