(Reuters) Forever in search of the next big idea, Bollywood is increasingly looking to the sports arena for inspiration, unusual for a country that has few international success stories apart from cricket.
The Indian film industry, the world's largest by output, traditionally churns out song-and-dance potboilers and is often accused of lacking originality and copying plots from Hollywood and other foreign films, which are nevertheless lapped up by the audience.
However, the spread of multiplexes and an invasion by Hollywood films in recent years, coupled with streaming services, have led to a quicker evolution of viewers' tastes. With the usual Bollywood fare no longer guaranteeing a box office bonanza, filmmakers hunting for the next hit formula think they may have struck gold with sports.
In the past year alone, producers and studios have announced biopics of India's only individual Olympic gold medal winner, the captain of the Indian women's cricket team, two top badminton players, their coach, and a film based on the cricket team's World Cup victory in 1983. There are also biopics being planned on two Paralympic athletes.
Next month will see the release of "Soorma", a biopic on Sandeep Singh, a national hockey player who recovered from a freak shooting accident to captain the country and win a silver medal at the Commonwealth Games in 2010. And in August, actor Akshay Kumar will combine the two pet themes of patriotism and sports in "Gold", which is based on events leading up to India's hockey gold at the 1948 Olympics, a year after the country gained independence.
While Bollywood has made the odd sports film occasionally in the last few years, the increasing appetite for real-life stories and the emergence of internationally recognised stars like Saina Nehwal (Badminton), Abhinav Bindra (Shooting) Sania Mirza (Tennis), and Mary Kom (Boxing), apart from cricketers, have spurred interest in the genre.
"Films like 'Bhaag Milkha Bhaag', 'Dhoni' etc have done well. But these stories are very inspirational because they happened in reality. It is not a piece of fiction and hence people appreciate it more," Sneha Rajani, Head, Sony Pictures Network Productions, told Reuters.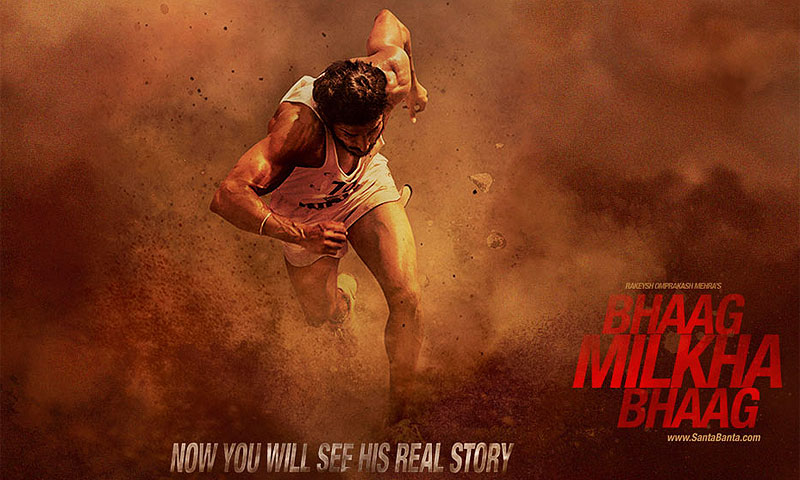 Bhaag Milkha Bhaag Film Poster, depicting Farhan Akhtar in and as Milkha. Photo: File
---
India has never been a sporting powerhouse. It has won just one individual gold medal at the Olympics, and its football team is ranked 97th in the world. But that hasn't deterred Bollywood. Next year, biopics on Indian badminton coach Pullela Gopichand and shooter Abhinav Bindra, as well as Kabir Khan's film on India's 1983 cricket World Cup win, will hit theatres.
In its rush to snap up the right story, Bollywood isn't waiting for players to end their careers or even reach their peak. Case in point: a biopic on badminton player P V Sindhu, who is just 22, is already lined up.
Vikram Malhotra, who heads Abundantia Entertainment, a production house which is making a biopic of Sindhu's coach, Gopichand, said it is not easy to zoom in on the right sports story.
"We are not looking at the Gopichand biopic as a sports film. It is a film of human achievement, it is inspiring and happens to have the backdrop of sports," Malhotra said.
Rakeysh Omprakash Mehra's "Bhaag Milkha Bhaag", the 2012 film on athlete Milkha Singh, may have set the ball rolling for a slew of sports biopics in Bollywood, but it also set the tone for melodramatic and overly padded films which often marginalise the sport and true incidents in the sportspersons' lives in favour of "creative licence."
In Omung Kumar's "Mary Kom", a 2014 biopic on India's Olympic bronze medallist, the climax showed the boxer fighting in the World Championships while her son underwent a crucial heart surgery back in India.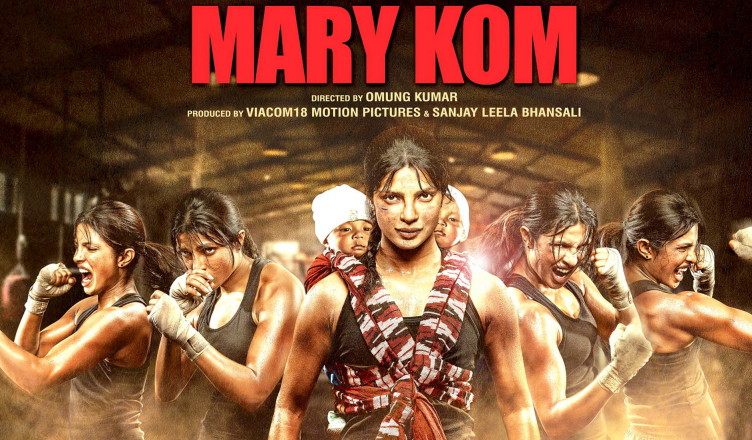 Mary Kom Film Poster, featured Priyanka Chopra as Mary Kom. Photo: File
---
In reality, the two events happened months apart. In Nitesh Tiwari's "Dangal", Mahavir Singh Phogat is shown locked up in a closet by an evil coach as his protégé and daughter is on her way to winning her first international medal, a complete fictionalisation of events that never happened.
"He was present when she won, and it was the most one-sided final that Geeta Phogat won easily. It was nowhere close to the tough match that was shown in the film," said Vijay Lokapally, a veteran sports writer for The Hindu newspaper and author of books on cricketers Virat Kohli and Virender Sehwag.