(AFP) – Curious customers lay on beds and nestled into armchairs Thursday as Ikea opened its first Indian outlet, hoping to wow a burgeoning middle class with offerings tweaked to local tastes, including its famous meatballs.
Opened with a military band, the store in the southern city of Hyderabad is the first of 25 outlets the Swedish furniture giant hopes to open by 2025 across the country of 1.25 billion people.
Analysts say, however, that the firm s concept of affordable, self-assembly furniture may have trouble translating to a market where do-it-yourself homemaking is an alien idea and spending levels are low.
Around 200 people queued up in the underground car park before the opening, and were greeted inside by hundreds of blue-and-yellow clad employees on the stairs waving Swedish and Indian flags.
"I ve come all the way from Bangalore (575 kilometres, 360 miles away). I am excited to see what s there," garment factory employee Krishna Mohan Dixit, 39, who began lining up 90 minutes before the opening, told AFP.
"We are looking forward to it. Actually it s my wife who got me here. Her sister sends a lot of Ikea stuff from Dubai. So here we are," said IT manager Nasrullah Khan, 34, another early bird.
Patrik Antoni, deputy retail manager for Ikea India, told AFP that he had tears in his eyes when the first customers arrived. "It is overwhelming, a dream come true," he said.
The changes compared with Ikea elsewhere start with the restaurant — "Smaklig Maltid — Enjoy your Meal in Swedish" is written on the wall — with space for 1,000 people, the firm s biggest.
For religious reasons, the meatballs are not beef or pork but chicken or vegetarian instead, while Indians  beloved biryani dish was on offer for 99 rupees ($1.44).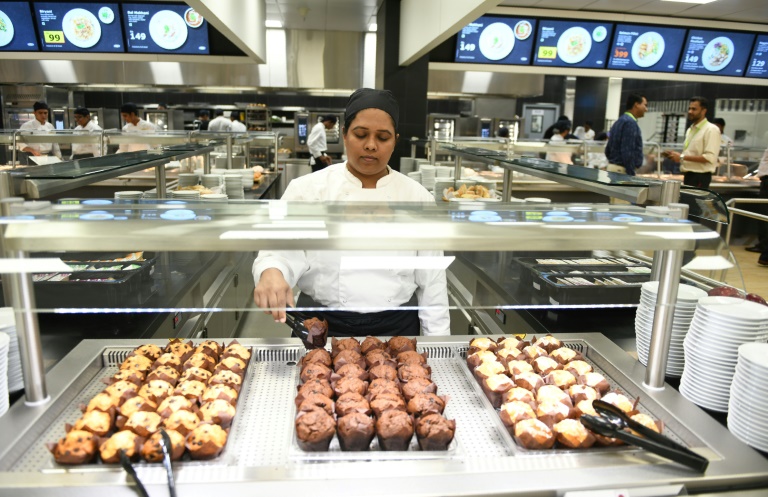 For religious reasons, Ikea's famous meatballs are not pork or beef at its first Indian store, but chicken or vegetarian instead. Photo: AFP

---
On Thursday, the eatery was crowded, with people happy to queue up with their trays.
Bhaskar Reddy, 35, who runs a stockbroking company in Hyderabad and who lived in Sweden for about two years, opted to compare the food first.
"I quite like the meatballs. It s chicken and not beef but nice they have tweaked the food for our sensibilities," Bhaskar told AFP.