(WebDesk) – As near as Eid-ul-Azha approaches, people in large numbers particularly children and youngsters along with their elders throng to the cattle markets to visit to the different sort of sacrificial animals brought to sacrifice in the way of the Almighty on the sacred occasion. The decorated cows, buffalos, goats, sheep and camels are being herded from Punjab, Sindh and different far flung districts of K-P in a bid to get maximum profit in the lucrative animal market.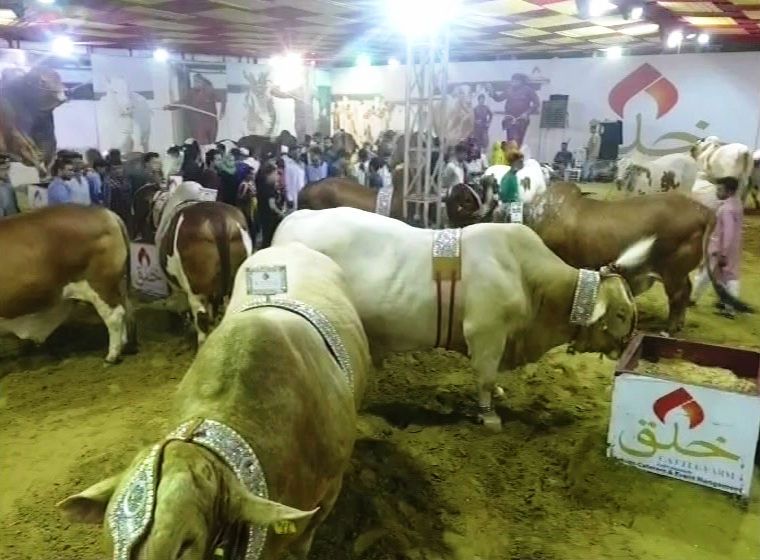 Bunty and Bubbli become the center of attraction in the cattle market of Karachi. Photo: Screenshot
---
With only two weeks ahead of Eid ul Azha, Karachittes are already in a zeal and reverence to celebrate their favorite festival.
Karachi's biggest cattle market is also set up in the suburbs of Karachi where hundred of cattles are still being brought by the cattle traders from all over the Pakistan which already has started attracting the zealous crowd but the ultimate show-stealer are the beautiful, healthy and the striking Bunty and Bubbli.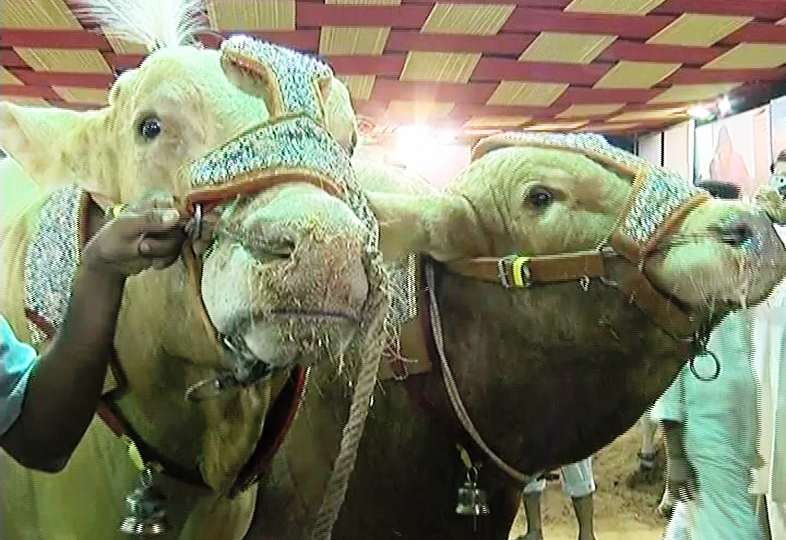 Bunty and Bubbli are decorated with beaded belts and other embellishments. Photo: Screenshot
---
As soon as the Bunty and Bubbli reach to the mandi, visitors from all over the Karachi have thronged to the market to have a glimpse of the good-looking pair of cattle. Bunty and Bubbli dazzle their sightseers with their sham and their looks.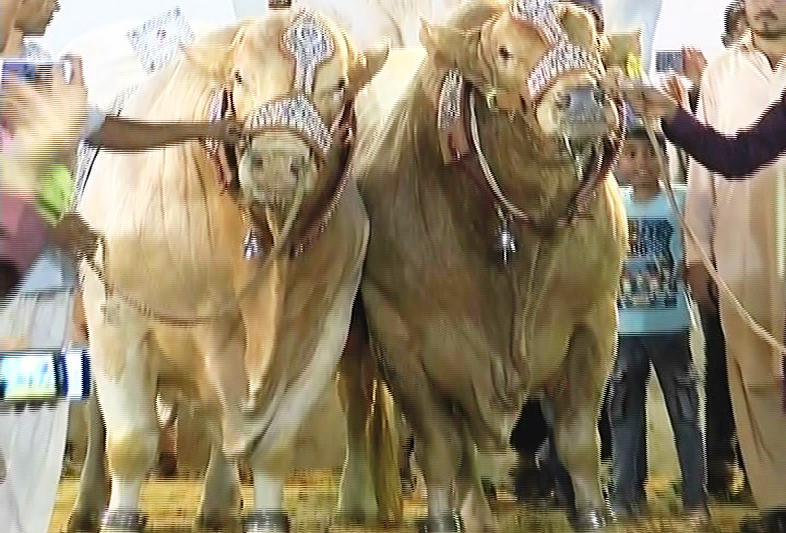 The owner of the Bunty Bubbli demands as much as 6m for the much appreciated pair of Karachi cattle mandi. Photo: Screenshot
---
Owner of the much appreciated pair of the cattle, is very pleased to see the frenzy of the visitors towards Bunty and Bubbli. According to him, Bunty Bubble is the most celebrated cattle Jodi in Karachi s mandi and people in large numbers are coming in to enjoy their cat walk. They are taking very good care of them and being given ghee, butter, milk and nuts to eat. The trader says that the Bunty weighs 1000 kgs where as Bubbli weighs 923 kgs.