In this day and age when provision of education is being ensured through innovative ways across the globe, in Pakistan children are being forced to carry heavy school bags on their shoulders causing severe back problems.
Carrying the heavy burden of school bags on their shoulders, these children are now at risk of back, neck and shoulder pain.
Abbasi Shaheed Hospital's Deputy Medical Superintendent, Doctor Nauman, has issued a detailed letter to secretary education in Karachi on the hazards of lifting heavy school bags.
According to him, more than 200 children have visited him with back, neck and shoulder pains. If not taken seriously, these children might suffer from severe Limbago (pain in the muscles and joints of the lower back).
---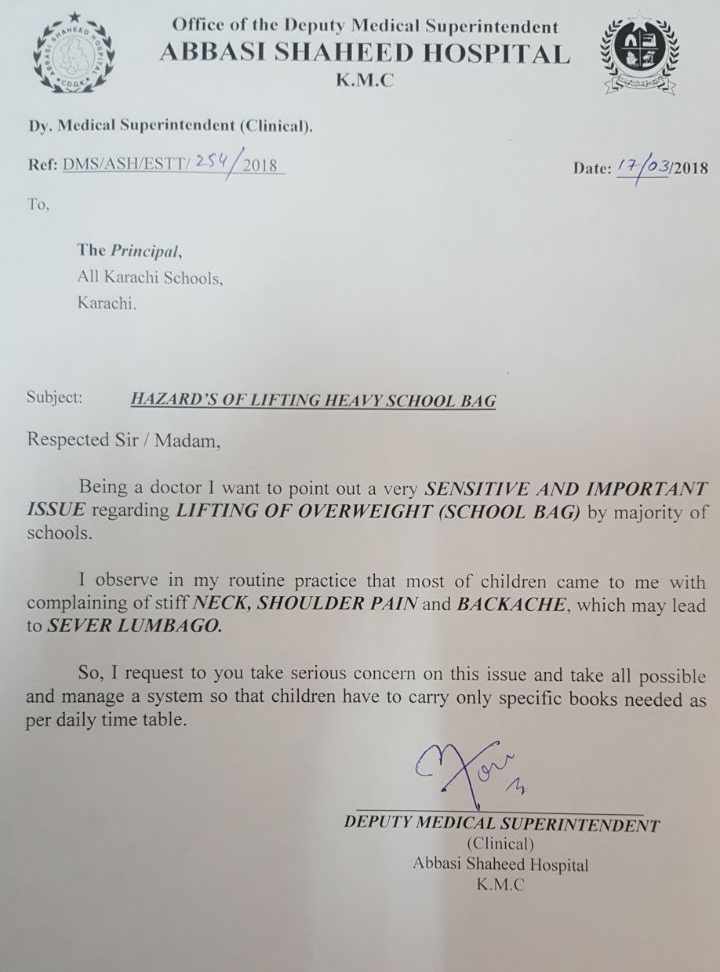 Letter issued by the Deputy Medical Superintendent of K.M.C. to all the school managements in Karachi. Photo: Screengrab

---
Speaking to Dunya News, Dr. Nauman said that children as young as 7 to 8 years were visiting hospitals suffering from shoulder, neck and back pain.
"After sorting out their entire history, it became obvious that these children were suffering from the pain due to carrying heavy school bags on their small shoulders."
Worried parents also initiated suggestions that teachers should distribute periods in such a way that children are not forced to carry so many books.
Children complain that carrying all the books in the bag makes it harder for them to lift it.