ISLAMABAD The Capital Development Authority (CDA) Friday had to forcefully vacate parliament lodges after former lawmakers failed to comply with its orders.
The CDA notified the occupants including former lawmakers Balighur Rehman, Talal Chaudhry and Farooq Sattar to vacate as many as 50 suites on Thursday.
"In the wake of non-compliance, the competent authority has decided to vacate these suites on 10-08-2018 (Friday) at 9am," read the notification.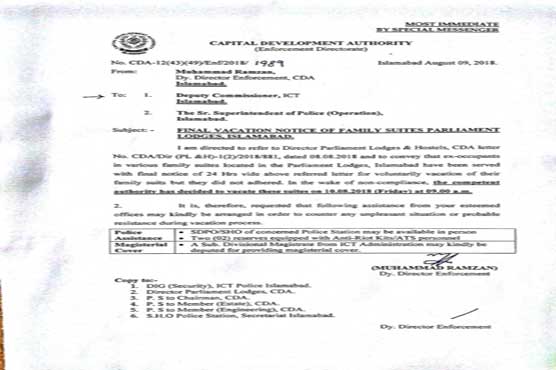 Police as well as sub-divisonal magistrate of the Islamambad Capital Territory (ICT) were called in to smash locks of the entrance to the rooms and vacate the lodges.