PESHAWAR (APP) – Chitral is all set to witness a close election battle on July 25.  Political heavyweights of PML-N, PTI, MMA and PPP are contesting against each other on the lone constituency of NA-I Chitral. 11 candidates including two former MNAs Iftikharuddin and Abdul Akbar Chitrali, an Ex-Provincial Minister Salim Khan and a female candidate are flexing muscles in the northern mountain district of Khyber Pakhtunkhwa covering14,850 kilometers area.
The constituency comprises on Upper and Lower Chitral where people are facing a number of problems such as poor waste management, unemployment, poverty, load-shedding, inadequate road infrastructure, lack of medical, education and clean drinking water facilities and any candidate with solid programmes for solution of these issues could get an edge over others on July 25.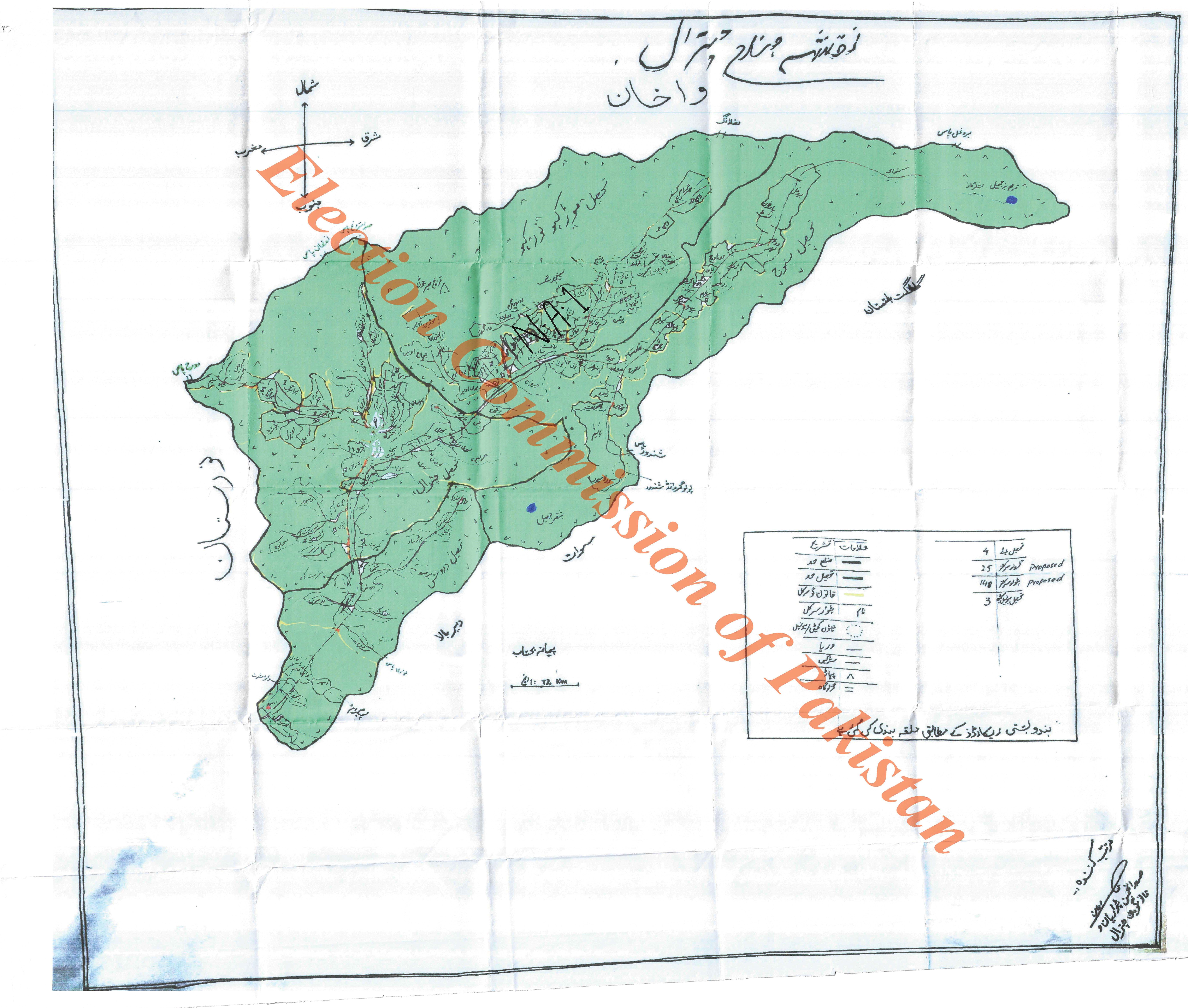 Constituency of Chitral NA-01. Photo: ECP
---
What is in the ballot box of Chitral NA-01 for PMLN?
PML-N ticket holder, Shahzada Iftikharudin is being considered a very powerful candidate for NA-I because of his strong roots and sufficient vote bank of his party in the constituency.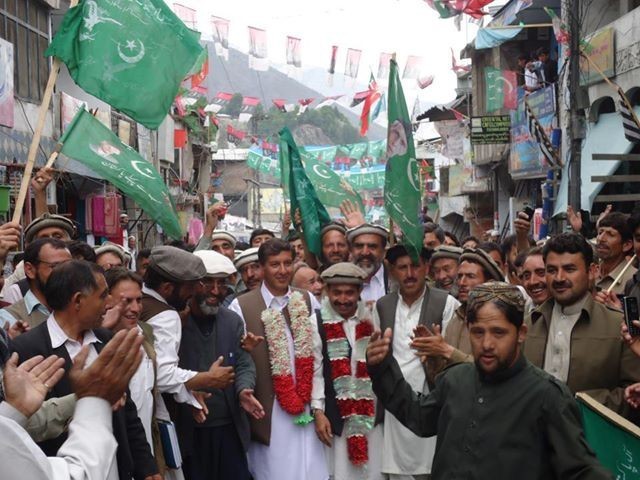 PMLN has strengthen roots in Chitral. Photo: File
---
Shahzada Iftikhar had won this seat in 2013 general election on the ticket of All Pakistan Muslim League (APML) of former President General Pervez Musharraf from NA-I (former NA-32) despite boycott of the APML.
On July 23, 2017, former prime minister Nawaz Sharif while addressing a public rally at the time of inauguration of Lowari Tunnel, had introduced Shahzada Iftikharuddin before the crowd that "he is my candidate for 2018 general election."
Shahzada Iftikhar would have an advantage of massive development projects completed by his party during last five years in Chitral besides taking credit of completion of 108megawatt Chitral Gol hydropower project and gigantic Lowari Tunnel project, being a single land route connecting Chitral with rest of the country.
In 2013 general election, Shahzada Iftikharuddin who contested election on APML ticket, has clinched victory by securing 29,772 votes against PTI's Abdul Latif 24,182 votes and former MNA Abdul Akbar Chitral of MMA bagged third position with 20,520 votes.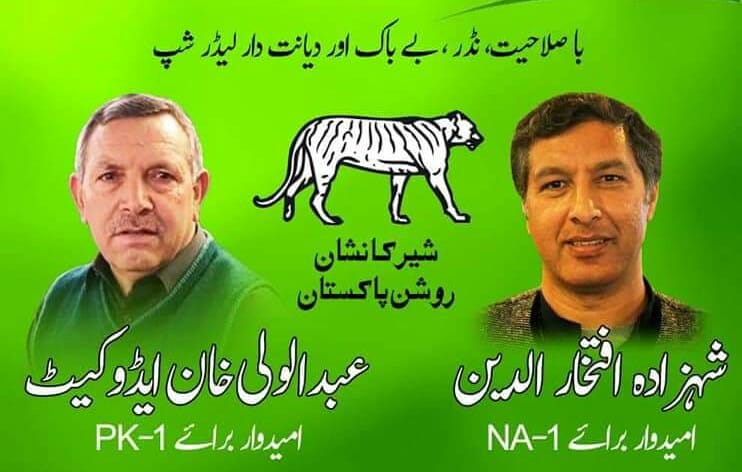 PMLN candidate Shahzada Iftikharud din for NA-01. Photo: Facebook
---
What PTI is expecting from constituents of Chitral NA-01?
PTI has again fielded Abdul Latif, who had narrowly lost to Iftikharuddin in 2013 general election, is expected to give tough time to his political rivals in the 2018 election. He would have the advantage of planting of millions of trees in Chitral by PTI government under Billions Trees Afforestation Project (BTAP) during last five years in KP besides revamping of health, police, tourism and education system in the district.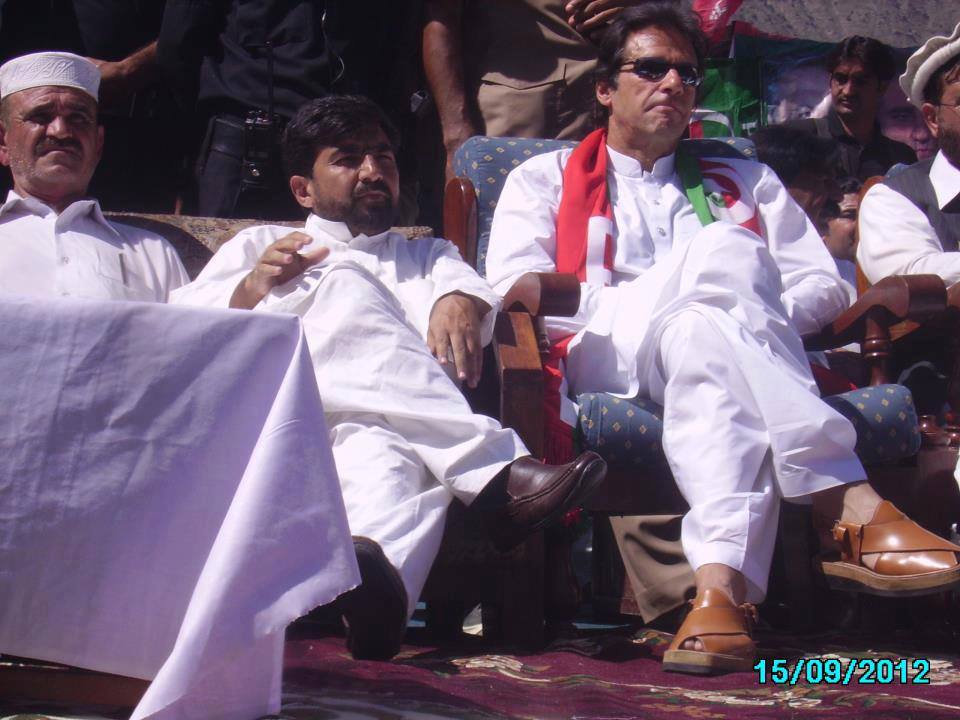 Abdul Lateed sitting with PTI chairman Imran Khan. Photo: facebook
---
What share PPP is looking for?
Former Provincial Minister, Saleem Khan, who is contesting election on PPP ticket, has also a strong candidate with deep roots along with sufficient vote bank of his party in the constituency and can upset many on the D-Day.
Salim Khan would have the advantage of cashing various mega uplifts projects and social welfare schemes including Benazir Income Support Programme (BISP) started by former PPP government that had benefited a large number of people in Chitral.
MMA is geared up to rise again from Pakistan s first NA constituency
The five religious parties alliance Mutahida Majlis Amal (MMA) has fielded a strong candidate former MNA, Abdul Akbar Khan Chitrali who is posing serious challenge to his political rivals due to sufficient religious vote bank of JUIF and Jamat e Islami in the constituency.
In 2002 general election, the constituency was comfortably won by Abdul Akbar Khan of former MMA after securing 36,130 votes against runner up Shahzada Iftikharuddin of PML-Q 23,907 votes who bagged 31,120 votes.
Independents also have a keen eye on NA-01
A female independent candidate, Tadira Ajmal is also trying her luck on NA-I Chitral. The other candidates are Saeedur Rehman (Pakistan Rah e Haq Party), Shahzada Taimour Khusro (Independent), Eidul Hussain (ANP), Muhammad Amjad (APML), Muhammad Yaya (Independent) and Nisar Dastageer (Independent) who are flexing their muscles for this lone national assembly constituency.