As the general elections 2018, draws near, the predictions and calculations for the most likely ruling parties in provinces and particularly in center, are being made. Constituencies are being surveyed to get an idea of the most promising candidate and the party contesting from. With 141 seats, the elected members of Punjab actually determine whom to be given the throne to rule Pakistan.
POWER POLITICS OF PUNJAB TO RULE PAKISTAN
Punjab plays the most crucial part in the power politics of Pakistan. Punjab alone constitutes 141 seats in National Assembly while the Punjab Assembly has 297 seats. According to the latest delimitations, Punjab's first constituency for National and Provincial assemblies, is Attock adjacent to Khyber PakhtunKha while the last is Southern Punjab's Rajan Pur.
According to the previous delimitations, the most populated province of Punjab was consisted of 148 constituencies which reduces into 141 after the latest delimitations, being done by the Election Commission of Pakistan after the Censor 2017.
Punjab power politics cannot be completed without considering the foremost and principal role of GT road. GT road comprises of 07 districts which constitutes 40 constituencies. PMLN secured 28 percent of Punjab seats from these districts. Out of these 40 constituencies, PMLN won 35 seats followed by PTI with 3 seats and PMLQ and Awami Muslim League each.
PMLN remained a governing entity in Punjab since a decade and successfully took over the term, one after another five year. Though the Panama Fiasco and the internal disturbances drag PMLN into hot waters but for the forthcoming election, would PMLN qualify to lead Punjab for another term or Tabdeeli-famed Imran Khan would succeed in bringing his change in the dynamics of accustomed politics of Punjab? PPP is also not running out of the game to win Punjab. PPP's co-chairman Asif Zardari has also set a keen eye on Punjab.
To testify the claims made by almost all the major political parties to conquer the Punjab, Dunya News Program 'Headlines' conducted a series of surveys, have been done in constituencies across the country. To forecast the most promising political party on the canvas of Punjab politics, Punjab in general and overall, Lahore and Southern- Punjab were surveyed separately.
Punjab, in General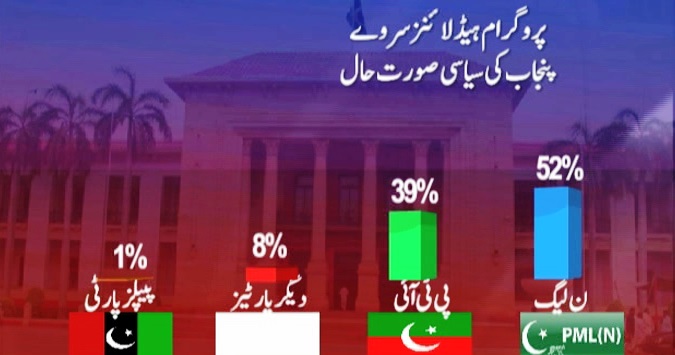 PMLN leads PTI, PPP and other parties in Punjab in general ahead of genral election 2018: Photo: Dunya Survey
---
According to the general provincial survey, Punjab still chants in the charm of Pakistan Muslim league Nawaz, leading with more than half of the majority of 53 percent followed by Pakistan Tehreek-e-Insaf with quite fair competition of 39 percent.