Advisor to Prime Minister (PM) on Commerce and Industry Abdul Razzak Dawood contradicted to his earlier statements pertaining to China Pakistan Economic Corridor (CPEC) while accusing UK-based newspaper of quoting his interview 'out of context'.
Dawood stated he would soon issue an explanatory statement on the controversy surrounding his interview with Financial Times.
---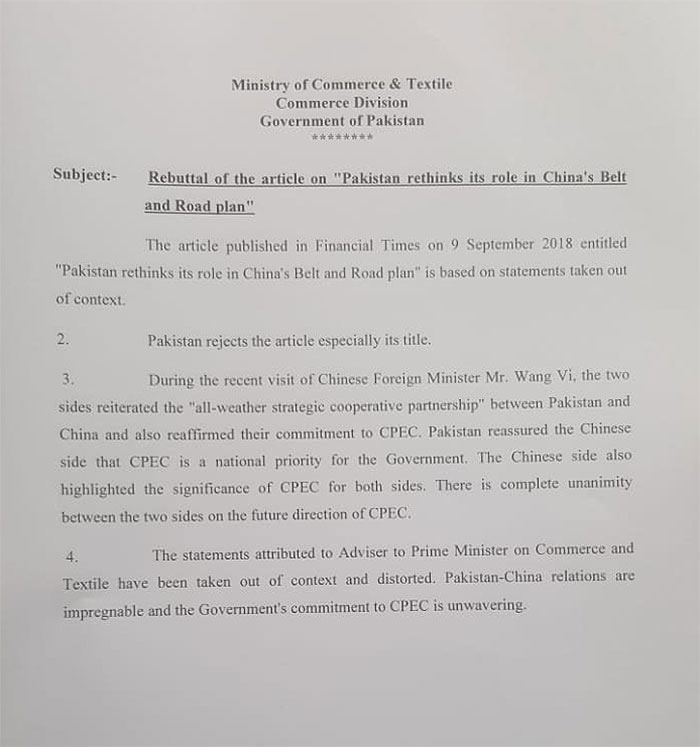 ---
Earlier today, Pakistan Muslim League Nawaz (PML-N) president Shehbaz Sharif on Sunday termed alleged freezing of CPEC-related [China Pakistan Economic Corridor] by the federal govt injustice to the nation.
Terming CPEC project a game changer in the region, the former Punjab CM urged Pakistan Tehreek-e-Insaf's (PTI) govt to restrain themselves from doing so.
The Sharif Jr went on to say that Pakistan would benefit immensely from CPEC as it would expedite industry and agricultural-related projects in the country.
"The previous government did a bad job negotiating with China on CPEC — they didn't do their homework correctly and didn't negotiate correctly so they gave away a lot," Abdul Razak Dawood, the Pakistani member of cabinet responsible for commerce, textiles, industry and investment told Financial Times.
"Chinese companies received tax breaks, many breaks and have an undue advantage in Pakistan; this is one of the things we're looking at because it's not fair that Pakistan companies should be disadvantaged," he said.