BANNU: Pakistan Peoples Party (PPP) Chairman Bilawal Bhutto Zardari has termed Pakistan Tehreek-e-Insaf (PTI) chief Imran Khan 'a perfect candidate for the crown of world's biggest liar.'
While addressing a rally in Khyber Pakhtunkhwa's Bannu district, Bilawal said whenever Imran Khan goes to other provinces he makes false claims that corruption has been eliminated from Khyber Pakhtunkhwa, no kid is out of school, health system is perfect and employment opportunities have surpassed jobless youth in the province.
---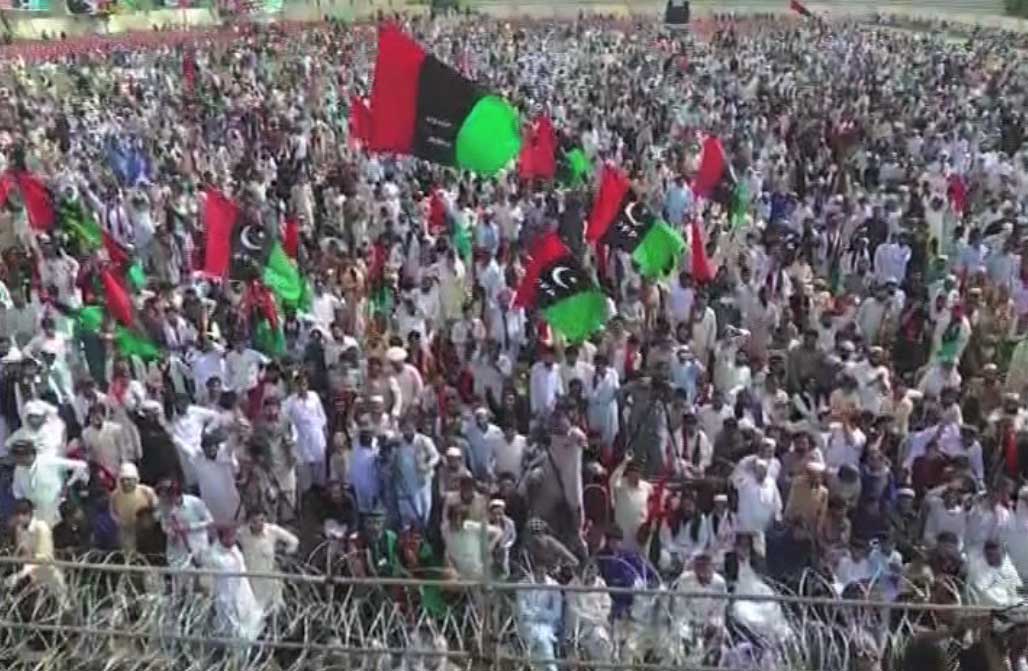 PPP supporters attend Bannu rally
---
The PPP chairman claimed that not a single university was established in KPK during last five years. Imran Khan gave education budget worth Rs57 crore to a madrassa, while on the other hand, PPP established 57 medical and engineering universities and colleges in Sindh.
"You know that Imran Khan didn't build even a single hospital in KPK during last five years, whereas, I have inaugurated five big hospitals in Sindh during last eight months," he added.
Bilawal also mentioned that KPK CM Pervaiz Khattak is facing serious charges of corruption.
---
ON TERRORISM
---
To prevent extremism, Bilawal said we have to bring changes in curriculum, social justice for economic opportunities, promote harmony, tolerance and finally restrict activities of the banned organizations.
"PPP understands that terrorism cannot be eliminated through force alone. We have always said that terrorism emanates from extremism and it is a disease, which spread during dictatorial regimes. Terrorism cannot end until extremism is checked," he said.
The PPP chief maintained that PTI govt has abandoned IDPs and 20,000 families are still spending lives shelter-less under open sky away from their homes since last four years.
"We should listen to the Pakhtun youths who are raising voice for their Constitutional rights in a democratic way. We should locate and find our negligences and mistakes."
Bilawal said: "I am proud of our police whether it is in KPK, Punjab, Balochistan or Sindh. Our Police has given huge sacrifices and fought terrorists bravely. Police is our frontline and we have to strengthen it because we cannot deploy soldiers in every street."
Speaking about youth's alleged killing in police encounter in Karachi in January, Bilawal said Naqeebullah Mehsud is not the only victim here nor is there a single target killer. We need a judiciary which is able to provide justice, a police people can trust and institutions who make and implement law.
Terrorism can only be defeated when there is complete rule of law and human rights are respected. Terrorism cannot be eliminated when there are enforced disappearances and target killings, he added.
Bilawal vowed to fight terrorists because they kill children, women and unarmed fellow citizens.
"We are not beasts like them. Terrorists or Musharraf, they must face the cases and punished as per law from courts," he demanded.
Bilawal asserted that the PPP government had restored the right of franchise to FATA citizens, started political reforms enabling political parties to work in FATA.
He said PPP will merge FATA into Khyber Pakhtunkhwa.