SRINAGAR, India — Government forces in the Indian-controlled portion of Kashmir removed dozens of black and Pakistani flags hoisted by residents observing a "black day" on Wednesday to protest the killing of a top rebel leader.   Utv Pakistan Report
Indian forces feared fresh trouble in the tense region after Pakistan called for observing a "black day" to express solidarity with "Kashmiris who are facing atrocities at the hands of Indian forces."
The largest street protests in recent years erupted after Indian troops on July 8 killed Burhan Wani, the popular 22-year-old leader of Kashmir's largest rebel group. Police and paramilitary soldiers in riot gear enforced a strict curfew for the 12th straight day Wednesday as life remained paralyzed and streets deserted in the disputed region.
India's External Affairs Ministry responded to Pakistan's call for a "black day" by saying Islamabad should stop "interfering in India's internal affairs and destabilizing the situation." Pakistan says it provides political, moral and diplomatic support to Kashmiris and anti-India rebels who demand Kashmir's independence or a merger with Pakistan.
Responding to Prime Minister Nawaz Sharif's appeal, Pakistanis held rallies around the country, including in its portion of Kashmir, to condemn alleged human rights violations in the portion of the region India controls.
In a statement, Sharif said "Kashmir cannot be accepted as an internal matter of India" as the United Nations has already declared it a disputed area. Sharif said India had promised to the world to arrange a plebiscite in Indian-controlled Kashmir, but such a commitment was yet to be honored.
During the recent protests, clashes between government forces and Kashmiris have left 47 people, mostly teens and young men, and a policeman dead. Nearly 2,000 civilians and about 1,600 government troops have been injured.
A man in his 50s, who was injured in firing by government forces during protests over the weekend, died in the main hospital of Srinagar on Wednesday, police said.
Hundreds of volunteers and people attending to the injured in the hospital gathered outside on the main road and offered prayers before his body was taken to his village for burial. They raised anti-India, pro-Pakistan and pro-freedom slogans.
Virtually no information was coming from most parts of Indian-controlled Kashmir, especially in the south where most of the killings have occurred, as cellular and internet services remained suspended. Newspapers were not printing and landline phone access was limited, except in Srinagar.
However, newspaper editors decided to publish Thursday editions after five days of disruption as the government apologized and regretted a ban imposed on Friday. The editors met with the state's top elected official, Mehbooba Mufti, and other officials during the day who offered guarantees of smooth media operations, said Masood Hussain, a senior journalist and editor of the English weekly Kashmir Life.
State government spokesman and Education Minister Nayeem Akhtar had said last Friday the restrictions were aimed at "saving lives and strengthening peace efforts."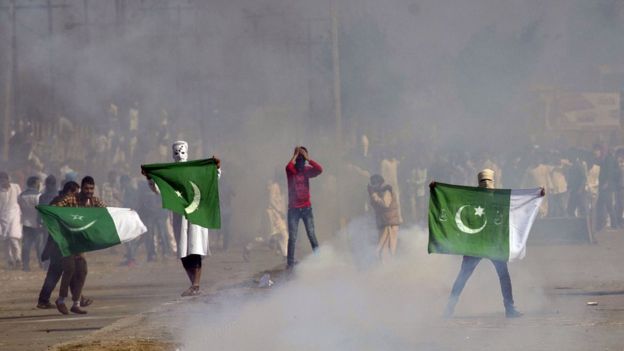 Despite round-the-clock curfew and information blackout, the protests, marked by clashes between rock-throwing Kashmiris and troops firing live ammunition, pellet guns and tear gas, have persisted. With shops closed, people were struggling to cope with shortages of food, medicines and other necessities.
Kashmir is divided between India and Pakistan, which both claim it entirely and have fought two wars over the Himalayan region since British colonialists left the Indian subcontinent in 1947. The region is predominantly Muslim and many residents resent the presence of hundreds of thousands of Indian troops.
Since 1989, more than 68,000 people have been killed in Kashmir's uprising against Indian rule and the subsequent Indian military crackdown.
Associated Press writer Munir Ahmed in Islamabad contributed to this report.
Copyright 2016 The Associated Press. All rights reserved. This material may not be published, broadcast, rewritten or redistributed.