KUALA LUMPUR (AFP) – Malaysia s former prime minister Najib Razak was hit with new charges Wednesday linked to a multi-billion-dollar financial scandal that contributed to his shock election defeat in May.
Appearing at a court in Kuala Lumpur, Najib was charged with three counts of money-laundering over claims he pocketed 42 million ringgit ($10.3 million), and pleaded not guilty. He faces up to 15 years in jail for each charge.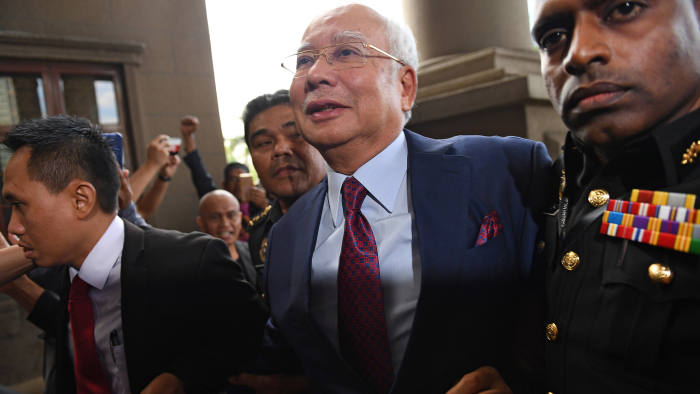 Former Malaysian prime minister Najib Razak, centre, arriving at the Duta court complex in Kuala Lumpur last month. Photo: AFP

---
These are in addition to the charges he faced last month after he was first arrested — three for criminal breach of trust and a separate count that he abused his position to take the money. He faces up to 20 years in jail for each of those charges, which he has also denied.
Malaysia s new government is probing allegations that billions of dollars were looted from state fund 1MDB, which was set up and overseen by Najib, in an audacious fraud that spanned the globe.
Corruption trampled his regime
Allegations of massive corruption were a major factor behind the electoral earthquake in May that toppled Najib s long-ruling coalition and ushered in a reformist alliance headed by his 93-year-old former mentor Mahathir Mohamad.
In a packed courtroom, the three new charges were read out to Najib. Asked if he understood them, Najib responded: "I understand".
His case was transferred to another court, where he entered not guilty pleas, meaning he will stand trial.
The new charges allege 42 million ringgit stemming from illegal activities was transferred to a bank account between December, 2014 and February, 2015.