KARACHI  – Meraj Muhammad Khan passed away in Karachi in the early hours of Friday after aprolonged illness,He was 77.  Utv Pakistan Report
He was suffering from a respiratory problem. Meraj Muhammad Khan's funeral prayers will be offered today (Friday) after Jumma prayers in Sultan Masjid in DHA, Karachi.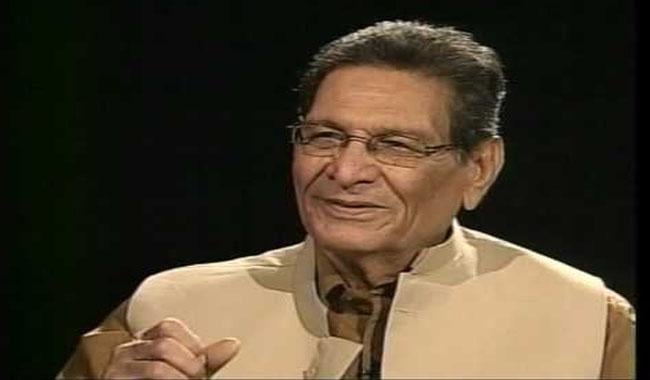 Meraj Muhammad Khan was born on 20 October 1938 in Farrukhabad, India. His family migrated to Pakistan after partition and settled in Quetta. After graduating from local high school in 1956, Khan moved to Karachi where he attended DJ Science College and later pursued his higher education at Karachi University in 1957. He earned a BA in philosophy and humanities in 1960, and an MA in philosophy in 1962.
He was among those who founded the Pakistan People's Party (PPP) and fully endorsed Zulfikar Ali Bhutto for the PPP s chairmanship. Through the PPP, he went into mainstream politics and successfully contested in the 1970 general elections on a PPP platform from the Karachi constituency.
In December 1971, Khan was appointed Minister for Manpower and directed the Ministry of Labour (MoL) in Prime Minister Zulfikar Ali Bhutto s government.
In 1973, Mairaj fell out with the Bhutto government when Bhutto started to compromise on his so-called Socialist agenda. In 1998, he joined Pakistan Tehreek-e-Insaf (PTI), but resigned from the party in 2003, citing differences with Imran Khan. He then joined the Mazdoor Kisan Party, which later merged with the Communist Party of Pakistan to form the Communist Mazdoor Kissan Party.