(Features Desk) – In a bid to eradicate poverty by empowering impoverished people through better job opportunities, a group of LUMS graduates came up with an innovative idea of providing employment opportunities to the needy.
Home and Office Services (H&O), brain child of Muddasar Sharif, started its operations 7 years ago while he was pursuing his undergraduate studies.
The aim of the company was to empower domestic jobs such as maids, nannies, drivers and cooks to households and offices. Through rigorous trainings, these workers received better placements in households.
---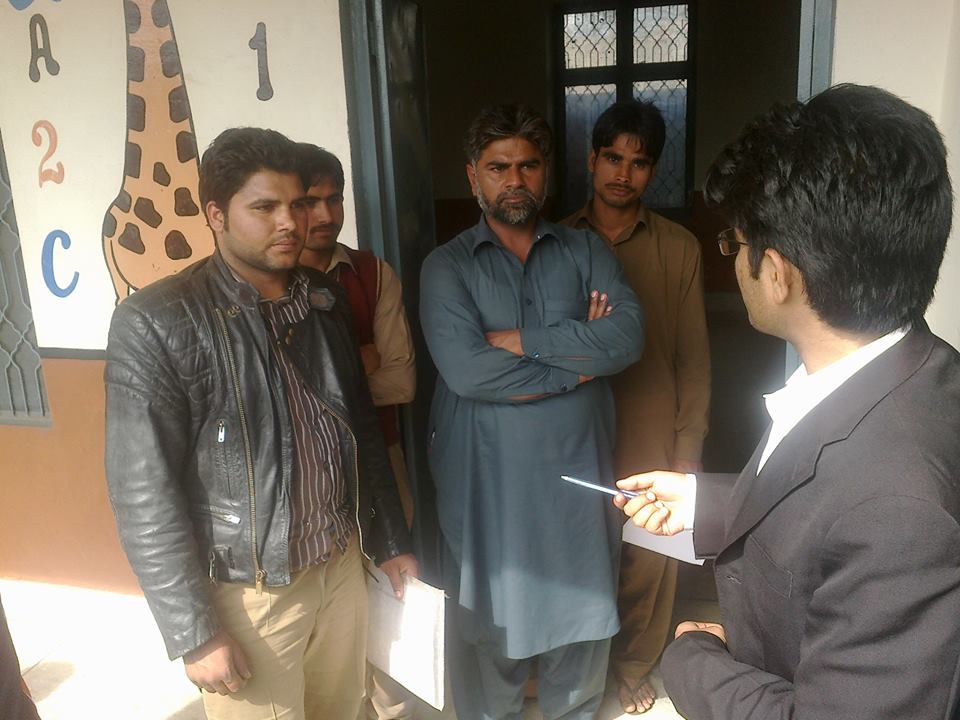 H&O has successfully reached to more than 500,000 workers in Punjab and KPK. Photo: H&O

---
The company has so far reached to more than 500,000 workers from Punjab and Khyber Pakhtunkhwa and has impacted more than 1200 families by providing jobs and soft skill training.
To better understand the project, we caught up with Sharif.
Tell us a little about your venture and your team?
H&O Services works for the economic empowerment of Pakistanis who live in chronic poverty by providing skills, stable source of income and cultural exposure in the homes of rich employers. We use domestic jobs as a tool to provide livelihood opportunities to the poor, in posh localities through a self-sustaining business that requires zero external charity or aid to run its operations.
We are a diverse team of seventeen people, including university graduates, who manage the employer side, and army retired personnels, who deal with the workers. Our board of directors includes Stanford and Erasmus Mundus graduates who advise us on how to manage the organisation on international standards. We also work with local media and top lawyers in the country to save workers from any kind of domestic abuse they may face.
What inspired you to work on this project?
A few personal experiences lead me to work on this project. My father fell ill and we had to move to the slums, back when I was completing my bachelor's at LUMS. The experiences while living in the slums motivated me to help people by providing livelihood opportunities instead of charity.
Explain your business model?
H&O Services operates based on a simple market need: the unfulfilled demand for trained domestic workers. The working middle and upper class totally depends on the services of these workers. People living in posh localities face challenges relating to security, reliability, skills and the like from workers, e.g. they can engage in or be a party to criminal activities like theft, kidnapping, or even violent crime.
On the other hand, domestic workers are predominantly part of the informal sector. They are operating beyond the cover of government legislation. Employers can get away with exploitation and systematic abuse of domestic staff, especially female workers, without any fear or accountability.
Even without such extreme cases, there is a general disconnect between an employer's expectations and the values and culture the domestic staff is exposed to, which has created chronic levels of dissatisfaction and depressed the financial returns for labour in this market.
---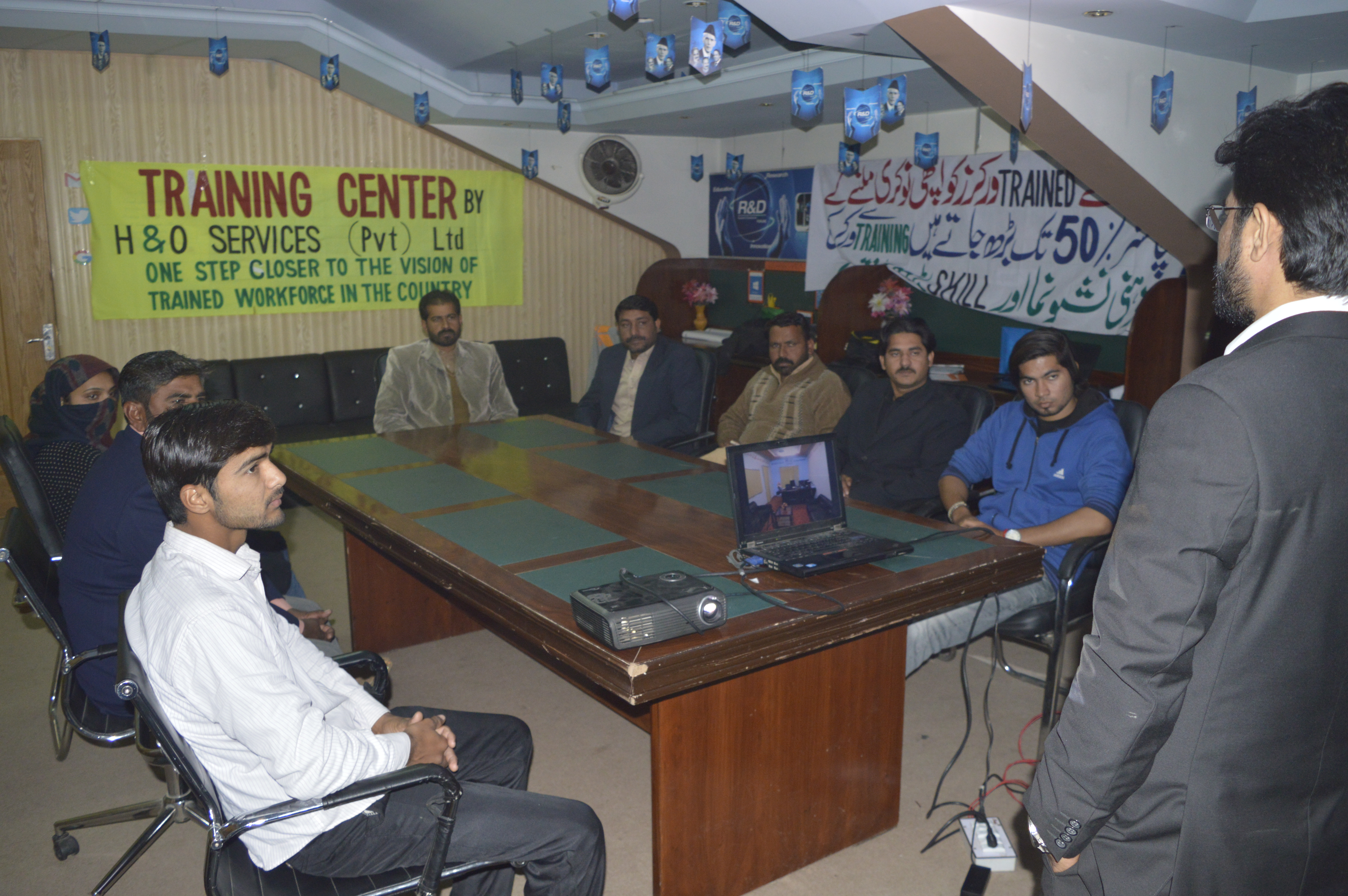 Sharif during one of the training sessions. Photo: H&O

---
H&O services approaches this problem with several key interventions. Firstly, we address the security concerns on both sides by ensuring registration of domestic labour with local police stations during their placement at any home, and vice versa we provide a strong recourse mechanism in case of any exploitation.
Secondly, we address the gap in norms and culture between employers and employees by providing basic soft-skills training and orientations to domestic workers before their job placement, reducing the chance of a culture shock once they join their new employer.
Thirdly, to address the issue of maintaining a supply of new workers, H&O Services has developed inroads into rural and semi-rural communities in Punjab and Khyber Pakhtunkhwa to conduct job fairs for direct outreach to potential workers. We have also launched a Referral Program to leverage social connections within communities, where women who are unable to leave their homes are incentivised to recommend candidates for training and employment from their neighbourhood.
How do you make it sustainable?
We have four Revenue Streams:
1. Verification Services – To ensure the security of the clients who hire workers through referral can get their worker's background verified against an affordable fee.
2. Economy Services – For clients who want to hire worker directly and will manage them at their own, we charge equal to the half salary of the worker and provide the background verification details to the client for their record.
3. Special Services – We provide the police verified staff, train workers based on the feedback from the clients, collect the salaries from the clients and pay to the workers so they feel association with the company, give two replacements. All of this against equal to the first salary of the worker and monthly Rs.500.
4. Premium Services – For those who want to hire Nannies, Elderly Care or Maids, we have Premium Services. We have educated and well-groomed high end females who work wisely and we provide all the facilities as in the Special Services. The staff hired wears uniforms while they work are at employer's place.
How open are workers towards being trained? Were they open to the idea or did it take some convincing?
Workers do not know the importance of trainings, but because they need a job and because they trust our organisation so they are willing to take trainings. During the trainings when we explain them the benefits of attending the session, generally it has been seen that their motivation increases towards the end of training sessions.
Placement of workers, especially domestic workers, comes with a degree of responsibility. How did you guys manage to build that level of trust with the clients who were seeking domestic help?
Traditionally, people hire domestic workers from single person run agencies. We often hear people complaining about these agencies. We being graduates from top universities in Pakistan were trusted automatically and when people visit our website, they see our profiles so they can relate with us. We are automatically trusted.
---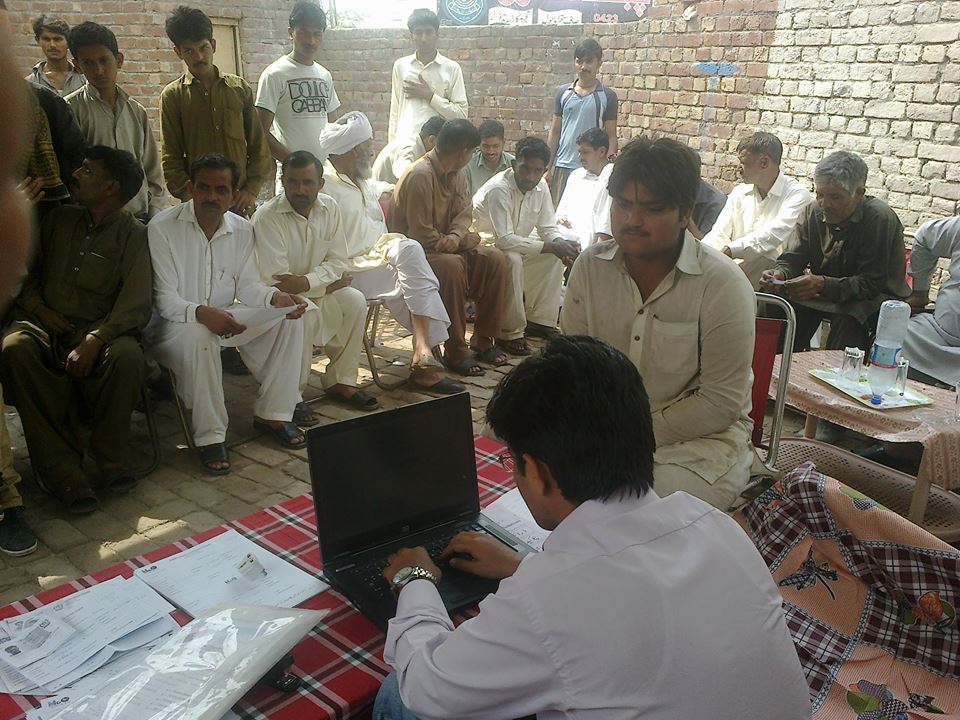 Registration is one of the key components of H&O company, to cater and safeguard of the employees. Photo: H&O

---
The trust strengthens when people view the process of our services. We have displayed the background verification process of our workers, on our website. The workers have to register to a police station and provide us two guarantors for the security of our clients. This simple social innovation ensures that the top concern of the employers is addressed and people who need domestic workers trust us.
There must have been instances that may have challenged you. Tell us a little about the problems you have faced working on this.
Initially I thought we'll face challenges from workers when they'll be on job, such as stealing or theft etc. But over the time I realised that employers pose bigger challenges. Every employer is of a different nature and behaves in a certain way. Some are decent, some are short tempered and others are 'demanding' in behaviour.
One such employer hired a nanny from us. Their kids were extremely naughty and quarrelsome. The nine-year-old boy hit the nanny with a pencil and wound her cheek. Instead of sorting out the situation, she threatened us to use her influence to shut down our company. We investigated the matter and went to the local police station because we had enough evidence about the situation of the worker. When she realised we were aware of the rules and the law, and we reminded her about the legal agreement that was prepared by Angbeen Mirza, an expert lawyer in Lahore, she begged us not to lodge an FIR and promised to pay the worker three-month salary and medical charges and that she'd never behave that way again.
This is just a glimpse of one of the extreme issues we have faced, because we have to deal with unique households.
The venture has so far gone to KP and Punjab. Would you be extending this into other regions of Pakistan?
There is a huge gap in the supply of workers and demand in Lahore, and as soon as we tackle this gap, we plan to expand to other parts of the country as well. Currently we hire workers from KP and Punjab due to easier access.
We want to expand to Islamabad and Karachi first because of the high demand received from these cities. We also plan to expand to other parts of the country like Balochistan and Gilgit Baltistan as soon as we partner with a few CPEC organisations.