LAHORE: Interim chief minister of Punjab Dr Hasan Askari on Saturday visited the mausoleum of Allama Iqbal in Lahore.
He offered Fateha and laid a floral wreath on the grave. Dr Hasan Askari also penned down his thoughts in the visitor's book.
Speaking to media, the caretaker Punjab CM said that professional individuals will be included in the interim cabinet which will be small and non-political.
He maintained that conducting free and fair elections is the duty of the caretaker government.
---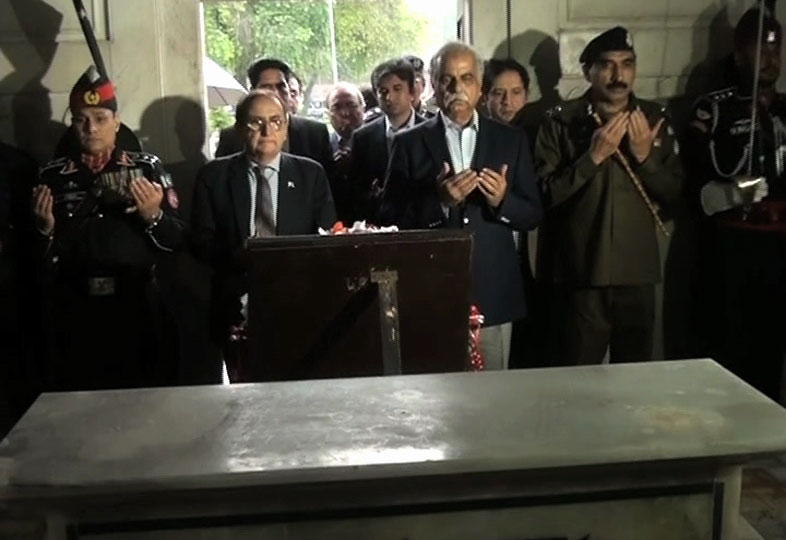 Caretaker Punjab CM offers fateha at the mausoleum of Allama Iqbal.
---
Dr Hasan Askari asserted that they will cooperate according to the framework of ECP. "The district administration will be asked to provide equal opportunities to all political parties in the elections," he said.
The caretaker CM went on to say that he neither had any political agenda in the past nor have it now. "All the doubts will be eliminated after witnessing our performance. The poem that Iqbal wrote in Germany suits the present era," he said.
Senior analyst Dr Hasan Askari Rizvi was sworn in as caretaker chief minister of Punjab in a ceremony held at Governor House Lahore on Friday.
Punjab Governor Rafique Rajwana administered the oath to Rizvi in front of a select audience.