RAWALPINDI: A non-bailable arrest warrant has been issued for model Ayaan Ali in the murder case of Customs Inspector Ejaz Mehmood.  
Utv Pakistan Report
A local court ordered police to arrest the accused immediately. Warrants have also been issued for others accused in the case, including Customs Superintendent Zargham and Dr Haroon. All three have been ordered to appear before the court within 10 days by Magistrate Gulfam Latif Butt.
The court issued the three warrants after police included Custom Superintendent Zargham and Dr Haroon in the case after Ayaan and Mehmood's widow, Saima, recorded their statements with the police in person.
Police recorded the statements after Mehmood's widow complained in an application to the magistrate that a year had passed since her husband's murder, but the police had yet to record her statement and those of her brothers-in-law.
Ayaan was also ordered by the court to record a statement with the police, but sent a written statement instead, which was rejected.
In her statement to the police, Saima said her husband was a witness in the currency smuggling case against Ayaan Ali as well as an investigator. She alleged Mehmood was killed when he refused to succumb to pressure and change the course of the investigation in favour of Ayaan.
Saima also alleged that Customs Superintendent Zargham is an accomplice to the murder as well as Dr Haroon, who she claimed tampered with Mehmood's post-mortem report.
Mehmood was shot dead by unknown assailants at his home in June 2015. His widow, Saima, claimed in a petition that he was killed at the behest of the model because he was the custodian of the case property and under continuous threat and pressure to manoeuvre and manipulate the evidence to favour Ayaan. But Mehmood refused to succumb to the pressure.
Ayaan's name was placed back in the Exit Control List (ECL), despite being earlier removed on Supreme Court orders, on the request of Customs authorities following a petition by Mehmood's widow.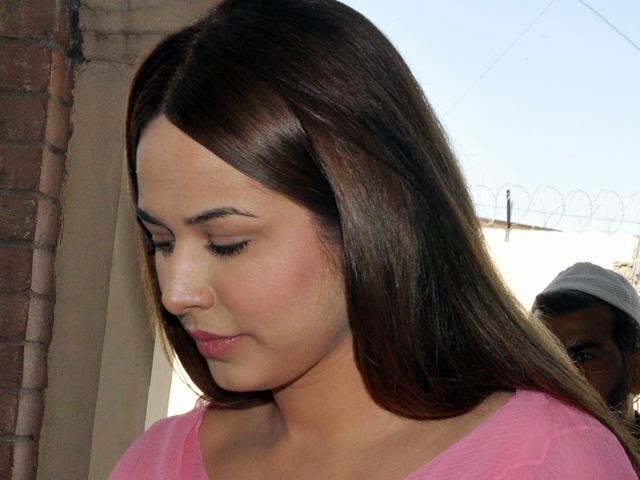 In her petition, Saima had requested the court to keep the model's name in the ECL until her husband's murder case is decided.
The Ayaan saga
A customs court had indicted the model last year for attempting to smuggle more than half a million dollars in cash out of the country, to which she pleaded not guilty.
The model was arrested on March 14, 2015, on charges of money laundering after customs officials recovered $506,000 from her luggage at Islamabad's Benazir Bhutto International Airport before she could reportedly board a flight to Dubai.
She was granted bail in July last year after spending around four months in Rawalpindi's Adiala Jail and after her judicial remand had been extended at least 16 times.
The case against the model took a political turn when the airport entry pass of the personal assistant to a former president was cancelled for allegedly trying to facilitate Ayyan's suspected attempt to smuggle money.