LAHORE: A two-year-old minor girl was killed and three sustained injuries as a powerful 6.2 magnitude earthquake struck Islamabad and various cities of Punjab, Khyber Pakhtunkhwa and Balochistan on Wednesday.
According to details, the casualty occured in Balochistan's Lasbela district where the roof of a dilapidated house collapsed after the quake.
Strong tremors also shook Lahore, Quetta, Peshawar, Faisalabad, Sialkot, Sheikhupura, Sargodha, Jhelum, Nankana, Chiniot, Abbotabad, Muzaffarabad, Lasbela, Safdarabad, Sharaqpur, Dir, Malakand and Mianwali where frightened residents ran out of homes while offices and schools were quickly evacuated.
---
Residents come out on streets after earthquake in Dir.
---
Officials dispatched teams in Balochistan and nearby Khyber Pakhtunkhwa province to assess reports of damage. However the National Disaster Management Authority did not expect serious losses, a spokesman said.
---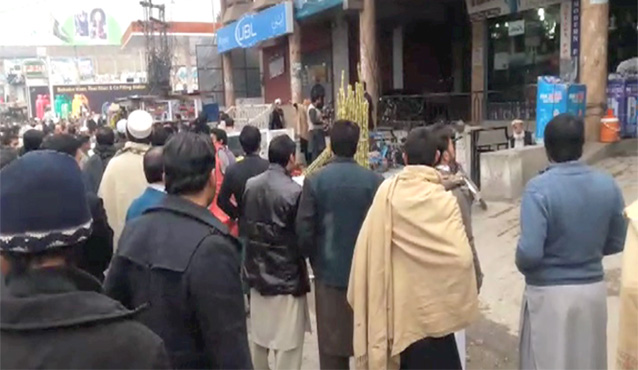 Residents come out on streets after earthquake in Malakand.

---
The earthquake originated around 169 kilometers below the earth's surface, with the epicentre located in mountains of Hindu Kush near Afghanistan's Jarm, which was hit by a devastating 7.5 magnitude quake in October 2015 that triggered landslides and flattened buildings, killing more than 380 people across the region.
---
Punjab CM issues directives
---
Punjab Chief Minister Shehbaz Sharif has directed the relief agencies to remain alert in case of any untoward incident in the province. He has also ordered the concerned authorities to monitor the situation and stay vigilant.
---
Earth-quake prone region
---
Pakistan is among the most earthquake-prone regions of the world with high vulnerability to earthquakes as the country lies in the collision zone of the India tectonic plate to the south and the Eurasian plate to the north.
In October 2015, an earthquake of 7.5 magnitude struck parts of Pakistan, killing at least 280 people, wounding over 1,900 others and damaging 100,552 houses and 1,426 schools.
In October 2005, a high intensity earthquake measuring 7.4 magnitude hit parts of the country, causing a large scale destruction and killing over 80,000 people and leaving hundreds of thousands others homeless.