(WebDesk) – After Salman Khan starrer 'Tiger Zinda Hai', Yash Raj Films is set to fire the cinema with their diwali release – Thugs of Hindustan (TOH) starring Aamir Khan, Amitabh Bachchan, Katrina Kaif and Fatima Sana Sheikh is the new buzz of the town. Thugs of Hindustan is an upcoming Indian epic action and adventure thriller.
Yash Raj's new oeuvre is written and directed by the Dhoom 3 master Vijay Krishna Acharya. Thugs of Hindustan is an adapted re-creation of Philip Meadows Taylor's 1839 novel 'Confessions of a Thug', and stars cream of Bollywood.The fictional feature revolves around a gang of thugs which impose a grave threat to the British Umpire in India in late eighteenth century.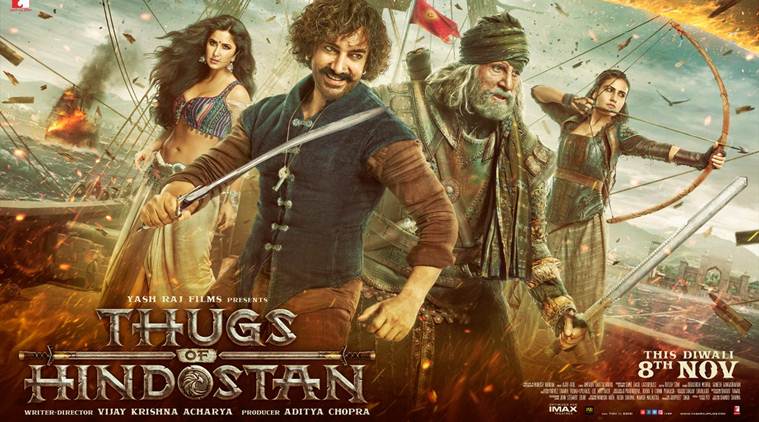 Thug of Hindustan Poster released by Yash Raj Film.
---
This Rs 300 Crore movie thriller is expected to hit hard the silver screen with some nerve-racking sea battles and war sequences to re-create the charisma of Pirates of the Caribbean as a new sub-continent experience. The two mammoth ships — weighing two lakh kilos — were built by over 1,000 people, including international designers and ship makers. Director Viktor (Vijay Krishna Acharya) wanted to go the whole hog in terms of scale and create a huge visual experience.
The blood rushing thriller which stars Amitabh Bachchan, Aamir Khan, Katrina Kaif, Fatima Sana Shaikh, British actor Llyod Owen, Jackie Shroff, and Shashank Arora – is all set to hit the theatres on November 8.
One of the most ambitious film to come from Yash Raj, Thugs of Hindostan will reveal its trailer on September 27 on Yash Chopra's birth anniversary. First poster was unveiled on Aamir's insta, the ravishing Katrina shared it on her insta as well and it soon became viral. After which Yash Raj has also released it online. The new  Thugs of Hindustan  poster features all four actors as they battle against an arch rival.
---
Earlier the looks of all the characters were revealed one by one.
Here are the five different avatars from Desi Pirates of the Carribean:
---
Amitab Bachchan as Khudabaksh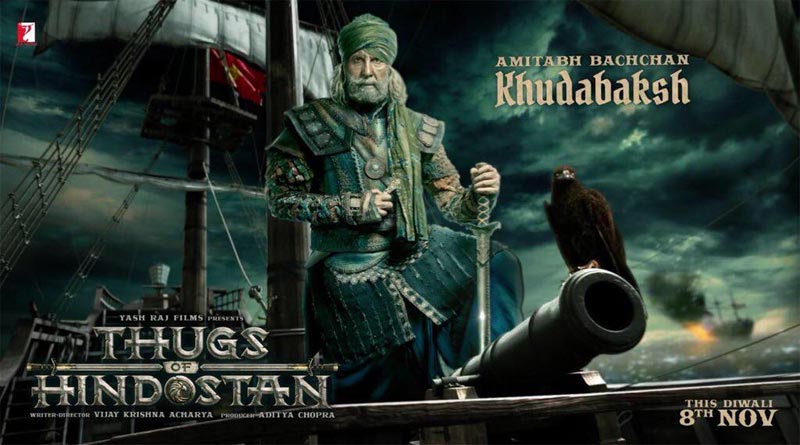 First look revealed from Thugs of Hindustan was of veteran Amitabh Bachchan who will be seen in the character of the Khudabaksh-The biggest thugs of all. This Thug master looks certainly will reming you the pirates of the Caribbean.
"Wading through storms & battles, the commander of Thugs has arrived. Amitabh Bachchan as Khudabaksh," reads the description along the motion poster shared by YRF.
Take a look at Thugs of Hindostan's Khudabaksh below:
---
Fatima Sana Sheikh as Zafira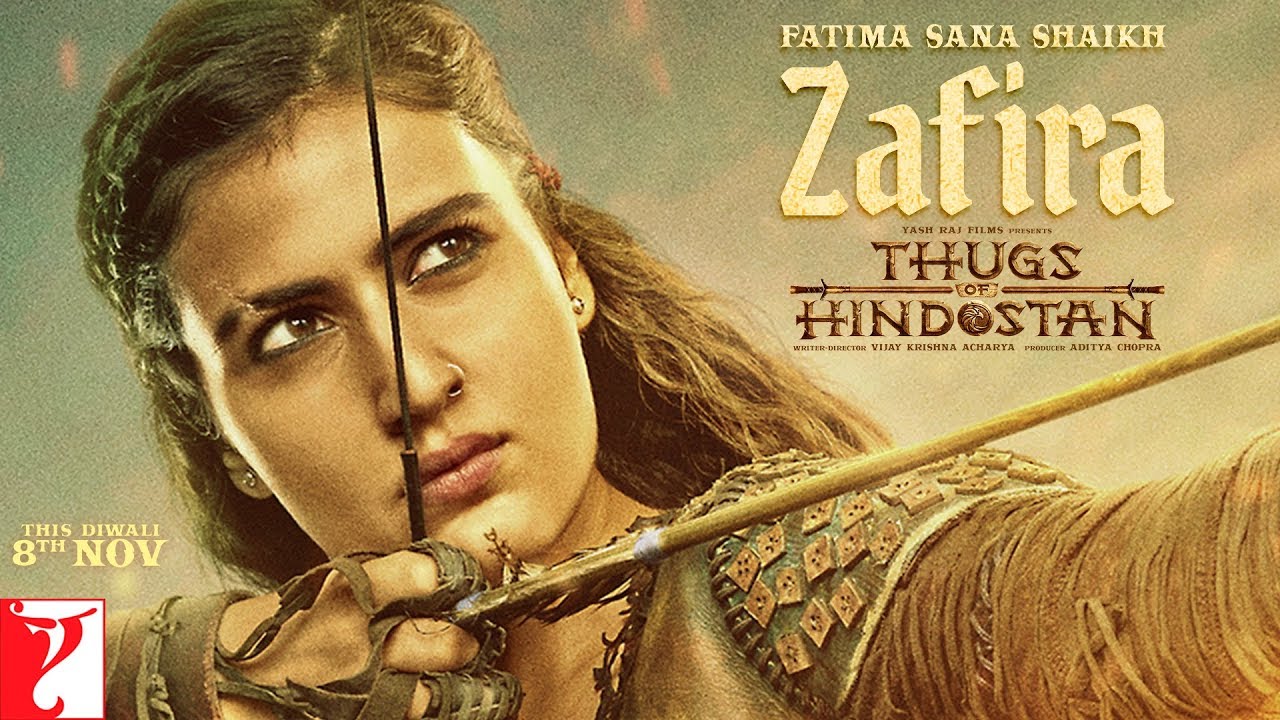 The Dangal star Fatima sheikh is playing the character of Zafira in Yash Raj's Thugs of Hindustan.
"Zafira is fiery and stunning. She is an extremely talented fighter and specialises in combat by bow and arrow. Zafira has perfect accuracy and she doesn't miss a target, ever. Fatima Sana Shaikh as Zafira brings vigour and freshness to Thugs of Hindostan," was how the Dangal star was described in a motion poster marked by fire.
The poster depicts Zafira in a fighter's outfit as she resolutely aims for her target with a bow and arrow. A fort with burning chambers are seen in the background of the poster.
---
Katrina Kaif as Suraiya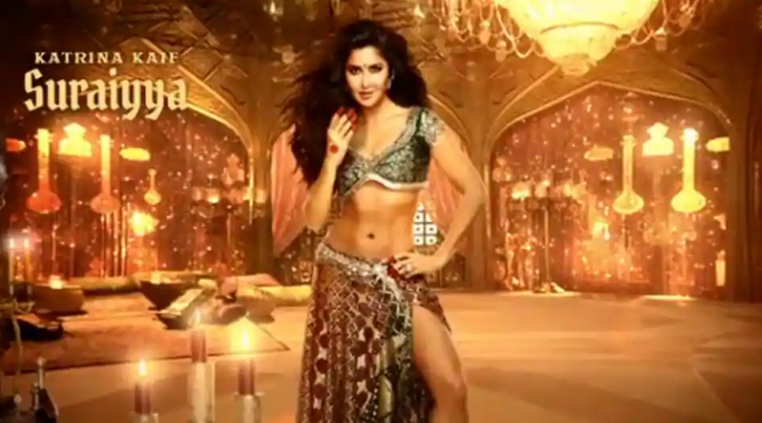 Another look revealed was of character 'Surraiya' played by Katrina Kaif. Katrina Kaif as Suraiyya is coming to make her fans go weak in their knees.
In the motion poster, Katrina wearing a shimmery traditional dress, can be seen looking at the camera with a background rich with chandeliers, lamps in the shape of musical instruments, candles and comfortable seats on the floor among British audiences.
---
Aamir Khan as Firangi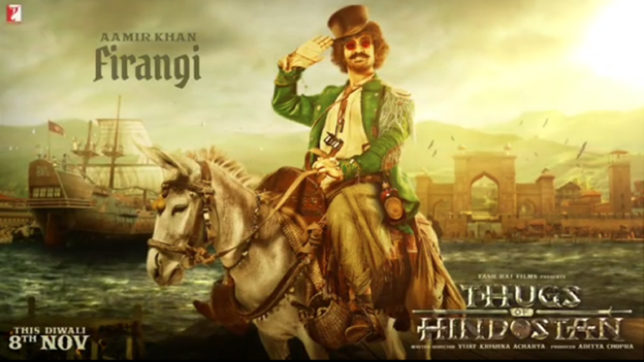 The most awaited look of 'Firangi Mallah' played by Aamir Khan, was flashed in last.
Dressed in a bright green jacket and a top hat over a dhoti, Aamir Khan is sitting on a donkey. With a bottle of liquor slung on his side and sports round tinted sunglasses, his eccentric look is completed with a mocking salute and an iniquitous smile on his face.
---
Lloyed Owen as John Clive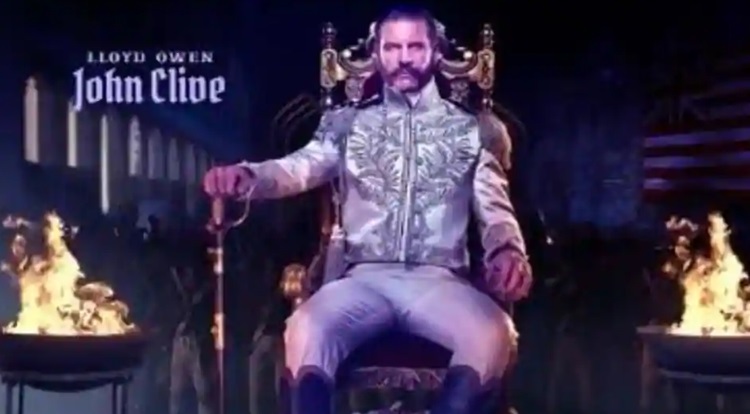 Last but not the least antagonist of the movie, Lord John Clive – the highly manipulative and cruel commander of the East India Company – played by British actor Llyod Owen. The character will be the face of the British Raj in India and a symbol of cold and evil ambitions.
Owen can be seen at his dominating best sitting on what appears to be a throne. He is dressed in a white military jacket with golden embroidery and shoulder embellishments, paired with white pants. The look of the wicked desperado was completed with a pair of knee-high boots and a thick imperial moustache.