LAHORE: Cleric Pir Hameeduddin Sialvi has warned Government of Punjab on Saturday to impose sharia law within a period of seven days lest the religious groups would shut down the entire province.
Sialvi, who is leading a sit-in protest of thousands of people outside rushy shrine of Data Gunj Bukhsh in Lahore has demanded the government to impose the sharia law.
In an address delivered to the protesters, Silavi said that innocent minor girls are murdered in multiple cities and the government has failed to arrest the perpetrators.
---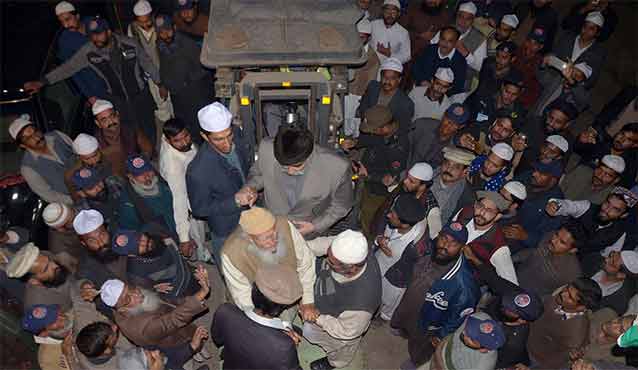 Pir Hameeduddin Sialvi surrounded by party followers at sit-in protest site
---
He urged the participants of the sit-in protest to not let the Khatam-e-Nabuwwat movement die at any cost. He said that it was his will to all those listening.
The cleric urged the participants to take a vow today to follow the footsteps of Prophet Muhammad (PBUH). He prayed that the Almighty grants them the strength to spread the movement to all parts of Pakistan and beyond.
---
---
Sialvi further said that there would be no dependence on the government if the people began to live their lives in accordance with the teachings of the Holy Quran and Hadith.
He complained that the leaders have not kept the Holy Quran 'as near to them as they have kept law minister Rana Sanaullah'.
Sialvi urged the protesters to not cast their votes to 'such people'.
---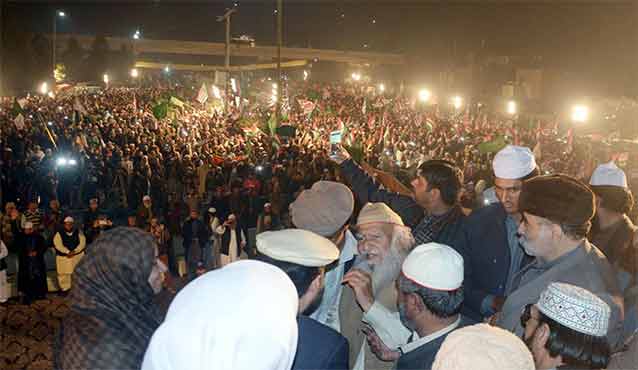 Sialvi clicked at the stage with thousands of people in attendance at the protest
---
It should be cleared that the cleric had earlier demanded Rana Sanaullah and Punjab chief minister (CM) Shehbaz Sharif to tender their resignations.
The government has not complied with any of the demands put forth by the religious groups, led by Sialvi prompting the bodies to stage a sit-in protest at the entry point of Lahore, near Azadi Chowk.
During his address, the cleric said that let Sanaullah put guns in hands of his 'goons', the protesters would offer to receive bullets on their chests.
Sialvi, a spiritual leader of thousands had served as a Senator for three years from 1988 to 1991.