A new trove of leaked emails seem to show that top officials at the Democratic National Committee openly mocked and criticized Sen. Bernie Sanders during the primary race against Hillary Clinton — a startling revelation that raises questions about the Democratic Party's impartiality and an issue that could play out poorly at the party's convention this week in Philadelphia.
Utv Pakistan Report
WikiLeaks posted close to 20,000 emails and 8,000 attachments Friday sent or received from top Democratic officials that seem to suggest the committee's chairwoman, Rep. Debbie Wasserman Schultz and other higher ups tried to tip the scales in Clinton's favor. WikiLeaks dubbed the document dump the "Hillary Leaks series."
Sanders has repeatedly claimed that he thought the system was "rigged" during the primaries.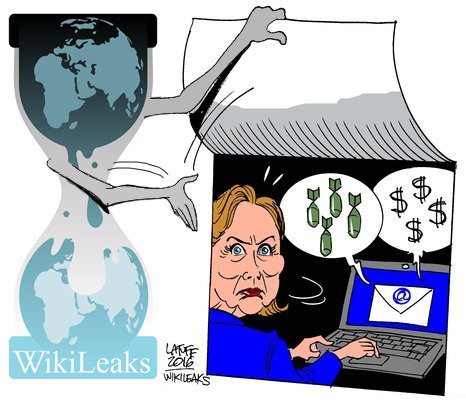 Republican candidate Donald Trump weighed in Saturday morning, tweeting: "Leaked e-mails of DNC show plans to destroy Bernie Sanders. Mock his heritage and much more. On-line from Wikileakes (sic), really vicious. RIGGED."
The leaks, from January 2015 to May 2016, purportedly came the from accounts of seven DNC officials and feature conversations by staffers debating everything from how to deal with media requests to syncing the party's message with interest groups in Washington.
The officials are: Senior Adviser Andrew Wright, National Finance Director Jordan Kaplan, Finance Chief of Staff Scott Comer, Communications Director Luis Miranda, Northern California Finance Director Robert Stowe, Finance Director of Data & Strategic Initiatives Daniel Parrish and Finance Director Allen Zachary.
In one email, DNC staffers were looking for ways to blunt Sanders' popularity with Democrats. In a May 5 email, a DNC employee asked a colleague to collect information on his religious beliefs – claiming it might sway voters in West Virginia and Kentucky. In that particular email, Sanders name was not mentioned but he was the only other candidate in the race at that time against Clinton.
DNC chief financial officer Brad Marshall wrote, "This would make several points difference with my peeps. My Southern Baptist peeps would draw a big difference between a Jew and an atheist."
Stephen Hayes, a columnist at the Weekly Standard, told "Special Report" on Fox News that the emails show a clear pattern of Wasserman Schultz and the DNC "thumbing the scales' in favor of Clinton and scheming for ways to "thwart" Sanders.
A May 15, 2016 email, shows the DNC was in close contact with news websites on articles related to the Democratic Party, Sanders and Clinton.
A Real Clear Politics article claimed that Sanders supporters are causing a lack of unity at the Democratic National Convention. Wasserman Schultz took issue with the headline. "This headline needs to be changed," she wrote.
What followed was a back and forth between DNC officials to pressure Real Clear Politics to change their story. The last email on the thread reads, "Done. Article has been updated."